Monthly Archives:
September 2017
One of my favorite places to experience is the Joseph Clark Gallery Arts of Africa located in Northside, one of the unique neighborhoods in Cincinnati, OH.
Lowery Joseph Clark is very knowledgeable about the pieces in his collection that are for sale and he features many of them on his website- http://www.josephclarkgallery.com
He is having an opening this Saturday, 9/9/17, 6-9pm and has invited 4 local artists to exhibit and a small selection of their work will be featured as well. I am honored to be one of the 4 artists and will have 4 of my handmade paper pulp painting collages in this exhibition until the end of October.
Joseph Clark Gallery
Wed. – Sat. 2-8 pm or by Appointment 513-351-8111
4038 Hamilton Ave, Cincinnati, OH 45223
Hope you will find the time to stop by at the opening or during the time of the exhibition.
Margaret Rhein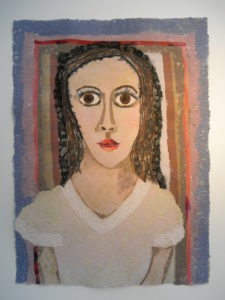 First Communion  (32″ x 40″ )by Margaret Rhein
The Joseph Clark Gallery is the inspiration of curator and owner Lowery Joseph Clark. An avid collector of African art for more than 25 years, he opened the Gallery in 2011. Joseph Clark Gallery's primary objective is to provide exceptional and unique art from the African continent with emphasis on the people of Sub-Sahara Africa.
The Joseph Clark Gallery proudly presents
Featuring local artists:
Madeline Ndambakuwa
Margaret Rhein
Ballard Borich
Carmen Bush
Opening reception Saturday September 9, 2017 6 -9 pm.
4038 Hamilton Avenue
Cincinnati, Ohio 45223.
Wine and light fare will be served